Affordable Bedbug control Services in Nairobi
Desmo Pest Control provides bed bugs control services in Nairobi Kenya that guarantees total bed bugs eradication in one visit. We have more than 5 years experience offering pest control services in Nairobi and therefore we know exactly how to handle any kind of situation. 
Infestation levels are always different from one home or business to another. That is  why we first listen to you, then create a customised plan to provide you with the best bedbug control services in Nairobi Kenya.
Bed bugs are small, parasitic insects that feed on the blood of humans and animals. They can be found in many places, including homes, hotels, dormitories, and other public places. Bed bugs typically hide during the day in mattress seams, box springs, and other cracks and crevices. Signs of an infestation include itchy red bumps on the skin and dark spots of excrement on bedding, mattresses, and walls. 
The most effective way to treat bed bugs is to hire a professional pest control company to inspect and treat your home. Trying to examinate bed bugs on your own often results to reoccurance. That is why client end up asking: Can you ever get rid of bedbugs completely?  Yes, it is possible to get rid of bedbugs completely. Bedbugs can be eliminated by thoroughly professional fumigation services, cleaning and vacuuming the affected areas, sealing off any cracks or crevices where they may be hiding, and using an insecticide specifically designed for bedbugs. It is important to note that bedbugs may have multiple hiding places, so it is important to take the necessary steps to eliminate them completely. That is why hiring a professional company like Desmo Fumigation Services is a wise idea.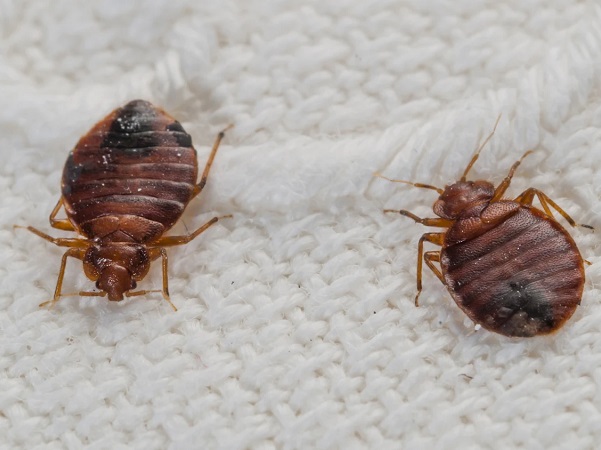 Professional BedBugs Control Services in Nairobi
We are a team of trained and adept professionals that strive to deliver an end-to-end bed bug treatment service in Nairobi. We know all about bed bugs: how they look like, how they breed, how they act, and how to make them go away for good.
We provide a thorough and all-inclusive bed bug assistance: from the initial inspection of the area to determining and implementing the proper pest control method tailored to each specific case.
Throughout the process, we aim to ensure both an entirely safe and fully effective bed bug extermination. Our team can react to your inquiries timely and flexibly – anytime, anywhere. We operate in all areas in and around Nairobi, Kiambu Kajiado and Machakos, offering a user-friendly, affordable, and invariably efficient bed bugs treatment services for all.
Bedbugs control company in Nairobi Kenya
We take bed bug treatment very seriously as a part of our mission to provide everyone with a clean, healthy, and pest-free environment. Our team of pest control specialists is located in Nairobi and is prepared to deal with even the most severe infestations.
Our experts can guarantee satisfactory and cost-efficient results by discovering all problematical spots and choosing the best bed bug control alternative. With our domestic and commercial bed bugs control services in Nairobi, we can solve the issue once and for all.
Residential BedBugs Control Services in Nairobi
Bed bugs can find their way to your home hidden in your luggage, clothes, and furniture. They can also migrate in search of food from one flat to another, forming a sizeable domestic infestation. This happens very often in densely populated cities like Nairobi.
Dealing with such a critical situation can cost you a lot of time, energy, and money if not done in time.
How to Get Rid of Bedbugs
We use professional insecticides which are carefully developed for human-inhabited spaces. The spray treatment which we offer is efficient and low-toxic. This makes us the go-to bed bug spray company in Nairobi.
How much does a bedbug Control Services in Nairobi Kenya
We offer personalised and affordable bed bug control solutions. When forming the price, we always consider the complexity, level of infestation, and the size of the premise.
Table showing the cost of bed bugs control services in Nairobi Kenya.
The Prices are not fixed.
Request a Free Quote
. Office eradication will require site survey.
| | |
| --- | --- |
| Size of The House | Cost of Bed Bugs Control |
| 1 Bedroom House | Ksh. 4, 500 |
| 2 Bedroom House | Ksh. 6, 500 |
| 3 Bedroom House | Ksh, 8, 500 |
| 4 Bedroom House | Ksh. 10, 500 |